What's new?
Corvette Buildsheet Book:
A Study Guide for 1973-82 Build Records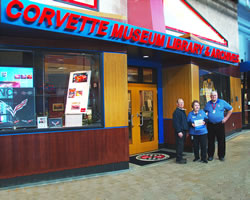 The first comprehensive and authoritative study guide to 1973-82 Corvette buildsheets launched April 2013 from the National Corvette Museum's Library & Archives.
Reference copies were delivered to the Betty Hardison, Library & Archives Coordinator and Wendell Strode, Executive Director. Now available for the Corvette enthusiast to explore codes on a C3 build record and discover that 1973-82 build records differ from 1967-72 tank stickers. Learn the 1973-82 buildsheet was the General Motors Assembly Division (GMAD) manifest used in other GMAD assembly plants.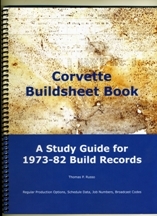 The Study Guide is for the third generation Corvette (C3) owner, collector, hobbyist or buyer who wishes to understand Corvette assembly production broadcast codes, how those codes were used to tag parts and how the buildsheet documented original buyer options. Six chapters cover a range of topics exclusive to those build records of this period. Fifty-two color illustrations compliment a detailed analysis of build records and guide the reader to interpret buildsheet data whether its an RPO, broadcast code or retrieving job numbers from schedule data. To review the Table of Contents, read chapter excerpts and browse additional details, click on the cover.
To order the Corvette Buildsheet Book, Book Information